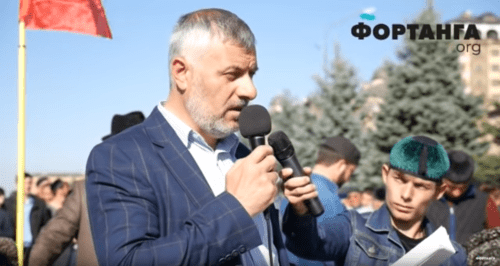 08 June 2019, 12:03
Arrest of Barakh Chemurziev, Ingush activist, extended
The Nalchik City Court has extended, until September 25, the arrest of Barakh Chemurziev, one of the leaders of Ingush protests. His defence demanded to disqualify the judge, but the motion was rejected.
The "Caucasian Knot" has reported that Barakh Chemurziev has been under arrest since April 14, 2019. He is suspected of attempted violence against a law enforcer during the March rally in Magas.
At the June 7 session of the above court, the defence asked to withdraw the judge, but the motion was dismissed, Magomed Abubakarov, an advocate, told the "Caucasian Knot" correspondent.
Besides, the defence asked the court to critically treat the investigators' position. "He was characterized as a person, who could leave Russia, if his freedom restraint measure is changed," said Abubakarov. The court upheld investigators and left Chemurziev in custody until September 25. According to Abubakarov, the ruling "was no surprise." "The ruling will be appealed against, same as the judge's refusal to self-disqualify," he has added.
This article was originally published on the Russian page of 24/7 Internet agency 'Caucasian Knot' on June 7, 2019 at 11:58 pm MSK. To access the full text of the article, click here.
Author: Oleg Krasnov Source: CK correspondent