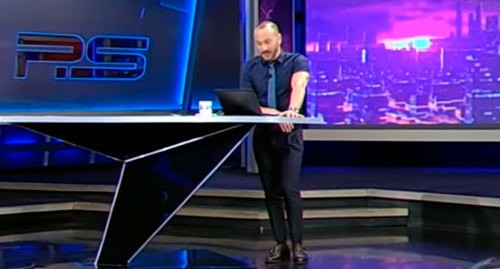 08 July 2019, 15:24
Hundreds demand from Georgian "Rustavi-2" TV Channel to apologize to Putin
Giorgi Gabuniya, a "Rustavi-2" presenter, has abused Russian President Vladimir Putin. The Georgia's President and Prime Minister have treated Gabuniya's statement as a provocation; and several hundred people gathered in front of the "Rustavi-2" building and demanded an apology.
The protesters who gathered on July 7 outside the "Rustavi-2" building demanded to close the TV Company. It has temporarily stopped broadcasting because of protesters' threats, the TASS has reported.
During his performance on air, Giorgi Gabuniya erupted with foul language against Vladimir Putin and his parents, reminding that his parents are deceased.
"What we watched on air of the 'Rustavi-2' is a disgusting provocation and an attempt to destabilize the country. This is absolutely unacceptable!" Mamuka Bakhtadze, the Premier, wrote on the Twitter.
Gabuniya's obscene remarks about Putin serve only to heighten the tensions with Moscow, the President, Salome Zurabishvili, has stated.
From an ethical viewpoint, Gabuniya's speech is unacceptable, but the conflict should be resolved according to the internal rules of the "Rustavi-2", Zviad Koridze, a media expert, has noted.
Gela Vasadze, a political analyst, did not rule out that the presenter's statement was his personal initiative aimed at "self-promotion."
This article was originally published on the Russian page of 24/7 Internet agency 'Caucasian Knot' on July 8, 2019 at 03:55 am MSK. To access the full text of the article, click here.
Author: Beslan Kmuzov Source: CK correspondent