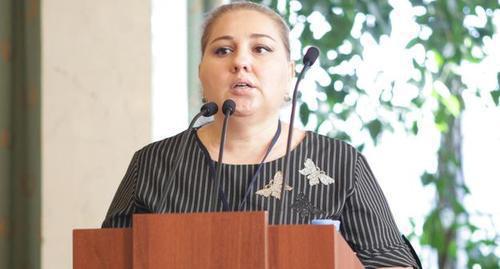 10 October 2019, 08:19
Zarifa Sautieva's defence claims violation of her rights
During the last month, no investigative actions were conducted with Zarifa Sautieva. The judge of the Supreme Court (SC) of the Stavropol Territory came into the deliberation room for several minutes and announced the decision in the absence of the activist.
The "Caucasian Knot" has reported that since July 15, 2019, Zarifa Sautieva has been under arrest in Nalchik, accused of taking part in the use of violence against law enforcers in the city of Magas, the capital of Ingushetia. Sautieva is the first Ingush woman arrested for political reasons.
On October 9, the Stavropol Territorial SC rejected the protest of Sautieva's advocates against the extension of her arrest until December 11.
Zarifa Sautieva, who took part in the session via video link, told the court that investigators had no proofs against her, Bilan Dzugaev, one of the advocates, told the "Caucasian Knot" correspondent.
"She has also stated that from September 4 to October 2, no investigative actions were held," the advocate has added.
"The judge listened to us for an hour and a half, then, retired to the deliberation room, and five minutes later announced the decision to reject the appeal. When the decision was announced, Zarifa Sautieva was absent; and this is a serious violation," Mr Dzugaev has concluded.
"Advocates intend to appeal against the court judgement," says a message posted in the "Magas Times" public on the Facebook, with reference to the advocates.
This article was originally published on the Russian page of 24/7 Internet agency 'Caucasian Knot' on October 9, 2019 at 09:56 pm MSK. To access the full text of the article, click here.
Author: Asya Kapaeva Source: CK correspondent