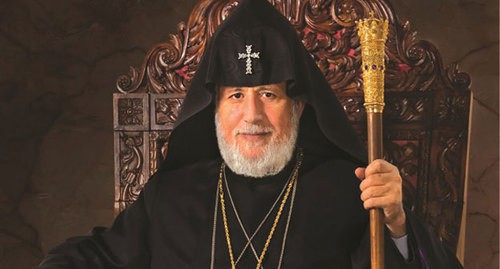 19 April 2020, 12:18
Call of Garegin II to release Kocharyan faces criticism in Armenia
Robert Kocharyan, the second president of Armenia, is the only one arrested person, whom Catholicos Garegin II has called to release because of the coronavirus threat, residents of Armenia have noted, suggesting that the clergyman's initiative is a political one.
The "Caucasian Knot" has reported that on April 9, Robert Kocharyan's defence filed lawsuits demanding his release from custody until the end of the coronavirus pandemic. Kocharyan is at risk because he is over 60 years old and has health problems, said his advocates.
Garegin II, the Catholicos of All Armenians, has urged to change Robert Kocharyan's freedom restriction measure because of the coronavirus threat.
In the opinion of Arthur Sakunts, a human rights defender and the head of the Vanadzor office of the Helsinki Civil Assembly, the appeal of Garegin II is an "organized action."
He has explained that the Catholicos had never stood up "for any illegally prosecuted person" in Armenia, and now "exhibits mercy to the person who is responsible for many negative phenomena in the country and is accused of a crime."
Some users of the Armenian Facebook segment have also criticized the request of Garegin II.
Telman Eritsyan has noted that, in his opinion, Garegin II should not interfere in politics. "The church is a holy place, and its minister should be virtuous, decent and modest, and not interfere in business or politics," he wrote in his page in a social network.
This article was originally published on the Russian page of 24/7 Internet agency 'Caucasian Knot' on April 18, 2020 at 03:58 pm MSK. To access the full text of the article, click here.
Author: Armine Martirosyan Source: CK correspondent