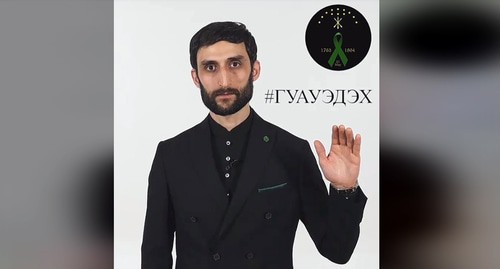 21 May 2020, 22:55
Social media users pay tribute to memory of victims of Caucasian War with a flash mob
On the Day of Remembrance of the Victims of the Caucasian War, users of Facebook and Instagram joined the initiative of Circassian activists from Kabardino-Balkaria and posted photos with their left hands raised as a sign of mourning.
The "Caucasian Knot" has reported that this year, because of the coronavirus epidemic, actions to commemorate the Day of Remembrance of the Victims of the Caucasian War are held online. Circassian activists posted thematic videos on social networks and called on residents of Kabardino-Balkaria and other regions of Northern Caucasus to pay tribute to the memory of the victims of the Caucasian War while staying at home.
The Circassians have the tradition to raise their left hands in a sign of grief and solidarity with the loss, organizers of the action explained in their video posted on Facebook and Instagram. Along with the hashtag #GuIedekh, those posts also contain the hashtag #guauedekh.
Let us remind you that the Caucasian War lasted from 1763 to 1864 and put the Adyg nations on the brink of extinction. Only about 50,000 people remained in their homeland after the Caucasian War and the mass deportation of Adyg people to the Ottoman Empire.
This article was originally published on the Russian page of 24/7 Internet agency 'Caucasian Knot' on May 21, 2020 at 01:41 pm MSK. To access the full text of the article, click here.