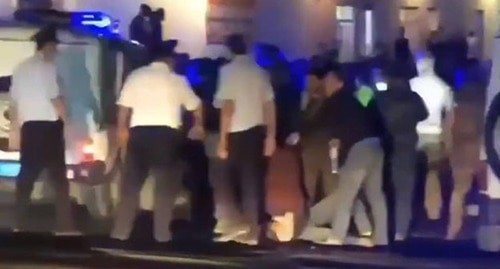 17 June 2020, 19:34
Ten Azerbaijani citizens detained after protests in Kullar
After the protest action staged by Azerbaijani citizens in the Derbent District, investigators have counted 400,000 roubles of damage. Ten suspects were detained.
The "Caucasian Knot" has reported that on June 15, citizens of Azerbaijan, who were waiting near the Dagestani-Azerbaijani border for a chance to depart to their homeland, staged a protest action that grew into clashes with law enforcers. On June 16, a group of 155 Azerbaijanis departed to their homeland.
On June 15, 400 citizens of Azerbaijan, who stay in the tent camp near the village of Kullar tried to block the highway and resisted the police by throwing stones at them.
After the unrests in Kullar, ten Azerbaijani citizens were detained; nine law enforcers were injured; and five police cars were damaged, the Investigating Department (ID) for Dagestan of the Investigating Committee of the Russian Federation (ICRF) has reported.
In early June, Azerbaijani citizens went on a hunger strike, demanding to accelerate their return home. Law enforcers had to use truncheons and tear gas against protesters.
In the opinion of tenants of the tent camp, law enforcers' actions were excessively harsh. Prior to clashes of Azerbaijanis with policemen, conflicts had occurred either but were limited to verbal skirmishes.
This article was originally published on the Russian page of 24/7 Internet agency 'Caucasian Knot' on June 17, 2020 at 12:05 pm MSK. To access the full text of the article, click here.