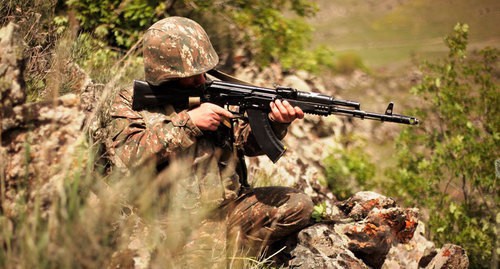 15 July 2020, 23:53
Armenian MoD reports de-escalation of border conflict
The ceasefire regime is maintained on the border between Armenia and Azerbaijan, the Ministry of Defence (MoD) of Armenia reported. Residents of the near-border regions of Armenia said that the aggravation of the conflict caused no panic, but some villages and town were cut off from the gas supply because of shelling attacks.
The "Caucasian Knot" has reported that according to the official information, released by the Azerbaijani side, 16 people fell victim to the armed clashes, including one civilian and 11 soldiers killed and four soldiers wounded. Taking into account the four killed and 20 wounded from the side of Armenia, 40 people were killed and wounded since the beginning of the aggravation of the conflict on the border between the two countries.
According to the Azerbaijan's authorities, the situation deteriorated after the Armenian armed forces had tried to go on an attack. In turn, Armenia claimed that the border conflict had escalated after an attempted breakthrough by the Azerbaijani troops.
Artsrun Ovannisyan, the spokesperson for the Armenian MoD, wrote on Facebook that the situation on the border in the Tavush Region direction remained relatively calm.
The family of 18-year-old Armine Sharyan lives in the border city of Berd. According to Armine Sharyan, no one left the city. "The only change which took place was the fact that some families took their children to safer places. There are several shelters in the city: they were built several years ago, since the situation often becomes tense in this direction," she said.
Residents of the city stay brave, Armine Sharyan has added.
There is no reason to doubt the official information concerning the personnel losses, notes human rights defender Artak Kirakosyan, the head of the Civil Society Institute. He suggests that the authorities are aware of the reputational risks they may face if they try to hide losses.
This article was originally published on the Russian page of 24/7 Internet agency 'Caucasian Knot' on July 15, 2020 at 05:52 pm MSK. To access the full text of the article, click here.
Author: Tigran Petrosyan