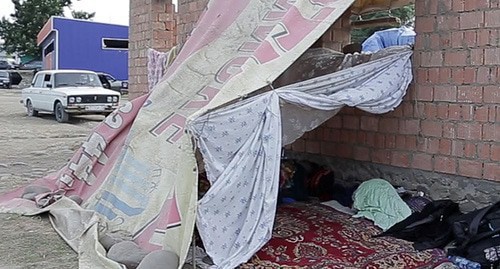 22 July 2020, 08:27
Group of 250 Azerbaijani citizens return home from Kullar camp
Among those who have left Kullar camp for Azerbaijan, there are 15 people who have long lived in the tent camp; others arrived there the day before, the National Cultural Autonomy of Azerbaijanis has informed.
The "Caucasian Knot" has reported that for the citizens of Azerbaijan who failed to get home due to the border closure, a temporary accommodation centre (TAC) in the form of a rent camp was set up on the border of the Derbent and Magaramkent Districts of Dagestan, near the village of Kullar.
On July 20, another group of 250 Azerbaijani citizens left the tent camp for their homeland, the "Caucasian Knot" correspondent was told at the press service of the Ministry for National Policy and Religious Affairs of Dagestan.
Among those who left for homeland, there were those who arrived in the camp the day before, Afig Allakhverdiev, the deputy chairman of the regional National Cultural Autonomy of Azerbaijanis in the Moscow Region, told the "Caucasian Knot" correspondent. According to his story, the organization has compiled a list of more than 130 people who have been in the camp for 1.5 to three months.
"We've given this data to the Russian Embassy and to Azerbaijan. But no one coordinates the final composition of the group with us. As a result, only 15 people from our list were able to go home today. The remaining 120 are still waiting for their turn. Among those who, according to our data, have crossed the border today, there were those who arrived only yesterday, on July 20. Many believe that the lists are drawn up unfairly," Mr Allakhverdiev has stated.
This article was originally published on the Russian page of 24/7 Internet agency 'Caucasian Knot' on July 21, 2020 at 07:38 pm MSK. To access the full text of the article, click here.
Author: Rasul Magomedov Source: CK correspondent