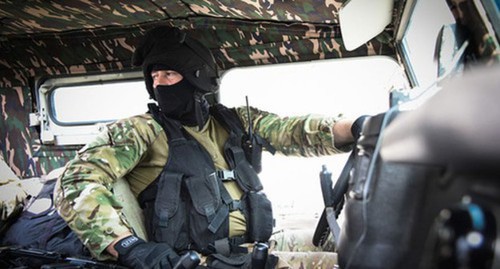 31 August 2020, 11:06
Bagaudin Evloev's arrest draws attention to law enforcers' practices in Ingushetia
The practice when detainees "disappear" for some time after arrest is quite common in Ingushetia, human rights defenders interviewed by the "Caucasian Knot" have noted in their comments on the difficulties with the admission of an advocate to Bagaudin Evloev, detained after a counter-terrorist operation (CTO) conducted in Nazran and Sagopsh on August 6.
The "Caucasian Knot" has reported that on August 6, a CTO was held in the city of Nazran and the village of Sagopshi in the Malgobek District of Ingushetia. Sources reported then that Muslim Evloev, an Asian champion in freestyle wrestling, managed to escape from law enforcers. At night on August 7, Muslim's cousin, Bagaudin Evloev, was detained. His mother said on August 27 that law enforcers had planted home-made bombs on her son, and forced him to sign a confession under torture.
Timur Akiev, the head of the Ingush branch of the Human Rights Centre (HRC) "Memorial", has noted that Ingushetia makes use of various methods to restrict advocates' access to "inconvenient" persons under inquiry. "They use any pretext to delay such meetings as much as possible. In some cases, they do it aiming to obtain defendants' confessions without advocates. In other cases – to give time for traces of beatings to heal up," Mr Akiev has explained.
Magomed Mutsolgov, the head of the Ingush human rights organization "Mashr", has noted, in his turn, that the situations, when people "disappear" after arrest, are quite common for Ingushetia.
"Earlier, these people disappeared altogether, or they were killed, but in recent years there have been fewer such kidnappings; and people have begun to be found," Mr Mutsolgov told the "Caucasian Knot" correspondent.
As for the non-admission of advocates, then, according to Mutsolgov, this is a fairly typical situation for the republic. "From time to time, such problems arise, especially if a detainee has been beaten up. Unfortunately, we have huge problems with the law and justice. And until everyone is equal before the law, and law enforcers respond for their actions, this will continue," he has concluded.
This article was originally published on the Russian page of 24/7 Internet agency 'Caucasian Knot' on August 31, 2020 at 01:28 am MSK. To access the full text of the article, click here.
Author: Semyon Charny Source: CK correspondent