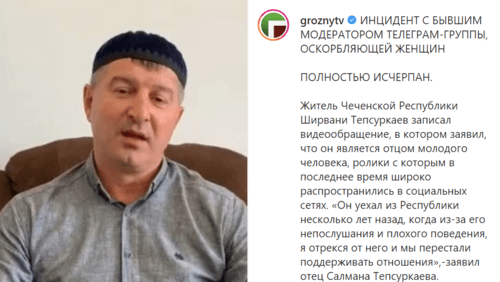 13 September 2020, 10:34
Salman Tepsurkaev's father announces renunciation from his son
The "Grozny" TV Channel has spread a video appeal of Salman Tepsurkaev's father, who stated that he had disowned his son for his disobedience, and made peace with the people offended by posts of the 1ADAT Telegram Channel.
The "Caucasian Knot" has reported about a resonant video, in which a naked man sits on a bottle, explaining that he was punishing himself for cooperating with the opposition 1ADAT Telegram Channel. According to Tepsurkaev, he "wrote offensive verses about other people's mothers and sisters, claiming that they were prostitutes."
"He left the republic a few years ago, when, because of his disobedience and bad behaviour, I disowned him and we stopped maintaining relations," Shirvani Tepsurkaev, the father, said in the video.
He considers his son guilty of insulting a number of women, but at the same time pointed out that Salman was provoked by other employees of the 1ADAT Telegram Channel, and some bloggers who had also insulted women.
This article was originally published on the Russian page of 24/7 Internet agency 'Caucasian Knot' on September 12, 2020 at 10:30 pm MSK. To access the full text of the article, click here.