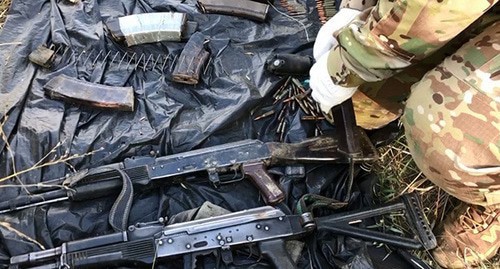 13 October 2020, 08:53
Militants shot dead in Chechnya named
The men killed during a special operation in the Sernovodsk District of Chechnya have been identified as Rustam Borchashvili and Kazbek Baidulaev.
The "Caucasian Knot" has reported that on October 11, two alleged militants were killed during the counterterrorist operation (CTO) conducted in Chechnya.
A law enforcement source told the "Caucasian Knot" correspondent that the CTO's targets were the alleged members of the grouping under command of Aslan Byutukaev, who is on the wanted list.
Aslan Byutukaev was involved in the terrorist attack at the Domodedovo Airport in 2011, and the attack of Chechen militants on Grozny on December 4, 2014; he is on the federal wanted list, and in the sanctions lists of the United States and the European Union.
The two men shot dead in the CTO have been identified as Rustam Borchashvili, a 42-year-old native of the Ingush village of Nesterovka, and Kazbek Baidulaev, a 32-year-old native of the Chechen village of Yandi. The latter, according to law enforcers, had participated in the hostilities in Syria, and returned to Russia in 2020.
Back as 2013, law enforcers announced that Borchashvili had been killed during a special operation; and relatives of Kazbek Baidulaev had earlier claimed that criminal cases against him had been fabricated.
This article was originally published on the Russian page of 24/7 Internet agency 'Caucasian Knot' on October 12, 2020 at 09:24 pm MSK. To access the full text of the article, click here.
Source: CK correspondents