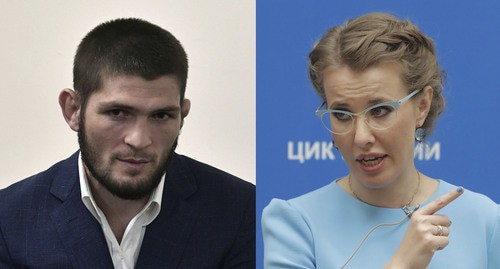 31 October 2020, 08:39
Russian TV personality reproaches Nurmagomedov for aggressive statements about French President
Dagestani MMA fighter Khabib Nurmagomedov wished the French President humiliation for insulting the feelings of Muslims. These words can be perceived by his fans as a call for violence, the Russian TV presenter, Ksenia Sobchak, has pointed out to the fighter.
The "Caucasian Knot" has reported that on October 27, Russian TV presenter Ksenia Sobchak entered into a remote dispute with Ramzan Kadyrov about caricatures of the Prophet Muhammad and freedom of speech. Ksenia Sobchak criticized the leader of Chechnya for saying that "a mocking attitude towards religion and scoffing at it" was not the use of freedom of speech, but an attempt on the other people's values. "It's a strange medieval understanding of an 'attempt on values'," Ksenia Sobchak wrote. After that, she and her team received threats.
On October 16, Samuel Paty, a teacher of history and geography, was beheaded in a Paris suburb. At a lesson on the freedom of speech, the teacher had shown caricatures on Prophet Muhammad from the "Charlie Hebdo" magazine to his pupils. The alleged killer was shot dead by policemen and identified as Abdulak Anzorov, 18, a Russian citizen of Chechen origin.
On October 30, Khabib Nurmagomedov, a native of Dagestan and a mixed martial arts (MMA) fighter, spoke about Emmanuel Macron in line with the position of the head of Chechnya.
"Let the Almighty disfigure the face of this creature and all his followers, who, under the slogan of the freedom of speech, offend the feelings of more than 1.5 billion Muslims. Let the Almighty humiliate them in this life and in the next one," Khabib, the UFC lightweight champion, wrote in his Instagram page.
In her comments posted on the Nurmagomedov's page, Ksenia Sobchak criticized him for these words. "Khabib! You are a hero for many teenagers in Russia; many follow your example! <...> I respect your religiosity <...> But don't you think that your words can be interpreted by millions of Muslims as a call for violence against Macron? But he had never spoken against Muslims; he spoke out against Islamic radicalism and terrorists who had committed a murder – and it's a terrible sin in the Koran, isn't it? Can't you express your opinions and judgments in some other, more friendly and non-aggressive form?" she wrote.
Many readers of Khabib Nurmagomedov's page have also condemned his publication, including from the standpoint of Islam. "And where is Islam in your text? A real Muslim would say: let Allah purify sinners' souls and guide them on the right path!" the user radj.pinkhasov has written. "With such posts you only incite religious hatred to other faiths; leave these thoughts to yourself," the user maksim.fors1 has addressed Khabib.
Many other readers of the public, on the contrary, have supported Khabib. "I personally expected this post from you," the user hanlar_azizov wrote. "Mocking religion means the freedom of speech; insulting blacks or LGBT people means racism and infringement of human rights! Double standards!" the user adilya.iu was indignant.
This article was originally published on the Russian page of 24/7 Internet agency 'Caucasian Knot' on October 30, 2020 at 08:20 pm MSK. To access the full text of the article, click here.