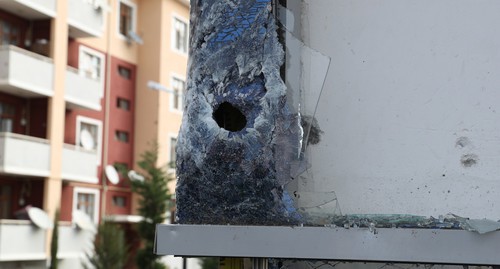 12 November 2020, 18:27
In Azerbaijan, IDPs await return to their homeland after fighting in Karabakh
In Azerbaijan, some of internally displaced persons are ready to return to their homes in the conflict zone, while others do not want to quit their jobs and their usual way of life.
The "Caucasian Knot" has reported that on November 10, an agreement between Russia, Azerbaijan, and Armenia on the cessation of the hostilities in Nagorno-Karabakh came into force. According to the text of the statement, the Azerbaijani army is to stop at occupied positions in Nagorno-Karabakh, and a buffer zone of five Azerbaijani regions surrounding the unrecognized republic is to be voluntarily transferred to Azerbaijan.
Murad Niftaliev, an internally displaced person (IDP) from the city of Zangelan, is ready to return to the state an apartment in a town for IDPs on the Pirallahi peninsula in Baku. "Last year, we were given a comfortable furnished three-room apartment here. But I will be happy to return it to the state and leave for my native Zangelan," Murad Niftaliev told the "Caucasian Knot" correspondent.
An IDP from the village of Khanlyg in the Gubadly District, who now lives in a dormitory of a pipe-rolling plant in Sumgait, has told the "Caucasian Knot" correspondent that he is ready for inconveniences and wants to return to his native village.
"In Khanlyg, we had a big house with a beautiful garden. We lost all of this overnight, and we have been living in this overcrowded dormitory for 27 years. The authorities promised to give us an apartment in a town for migrants, which is under construction now. Now it doesn't matter. I hope that we will be able to return to our native village next year. However, as we learned, the village had been badly destroyed. I am even ready to live there in a trailer or in a hastily built hut, but the main thing for me is to live in my native village," said the pensioner.
Meanwhile, Imran Tanryverdiev, an IDP from the city of Gubadly, is not going to return there. "I work as an engineer at an Azerbaijani-Turkish construction company. If I leave, I will hardly find a job with a high salary. But my elderly parents will return to our native city," Imran Tanryverdiev told the "Caucasian Knot" correspondent.
Samir Abdullaev, an IT specialist, born in the village of Mekhtili in the Djabrail District, also does not plan to return to his native village. "I was a little boy when we left our native village. I grew up and studied in Baku, and I work here. If we leave, we will lose everything. My parents will return to the village, and we will often visit them on holidays and vacations," the man told the "Caucasian Knot" correspondent.
This article was originally published on the Russian page of 24/7 Internet agency 'Caucasian Knot' on November 12, 2020 at 01:25 pm MSK. To access the full text of the article, click here.
Author: Faik Medzhid Source: CK correspondent