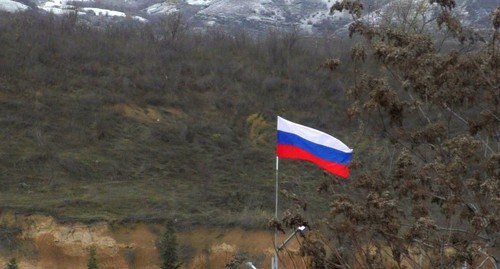 17 December 2020, 14:26
Baku and Yerevan analysts treat idea of "gray zones" in Karabakh as impracticable
The so-called "gray zones", free from all conflict parties in Nagorno-Karabakh, are contrary to the principles of Azerbaijan's sovereignty and can become bait for armed formations, Azerbaijani political analysts believe. The creation of neutral zones is beneficial to Armenia and Russia, but Baku will not agree to this, Yerevan experts are sure.
The "Caucasian Knot" has reported referring to the Karabakh Ombudsperson that about 60 military servicemen were taken prisoners of war (POWs) near the village of Khtsaberd. Russian peacemakers helped Armenian militaries to get out of the encirclement, the Armenian Ministry of Defence (MoD) has reported.
"In the villages of Khtsaberd and Khin Takher of the Gadrut District, a group of armed persons remained, whom the Azerbaijani troops did not notice ... They were taken POWs and agreed to leave, because they had no choice," the journalist Khafiz Babaly has reported.
In his opinion, there is no need for "gray zones" in the Lachin Corridor, because these territories should be under Azerbaijan's jurisdiction.
Togrul Ismail, a political analyst, has recalled that the agreements stipulate that all illegal armed formations (IAFs) should lay down their weapons.
"There's no such state as Nagorno-Karabakh; and it cannot have any Armed Forces," Mr Ismail has stated. In his opinion, "gray zones" are contrary to Azerbaijan's sovereignty.
He has also pointed out that Azerbaijan creates no obstacles for Armenians living under Azerbaijan's jurisdiction.
The Armenian party will benefit from creation of "gray zones", as this will allow avoiding direct confrontation in case of a ceasefire violation, Robert Nazaryan believes.
This article was originally published on the Russian page of 24/7 Internet agency 'Caucasian Knot' on December 17, 2020 at 02:44 am MSK. To access the full text of the article, click here.
Author: Rustam Djalilov, Tigran Petrosyan Source: CK correspondents