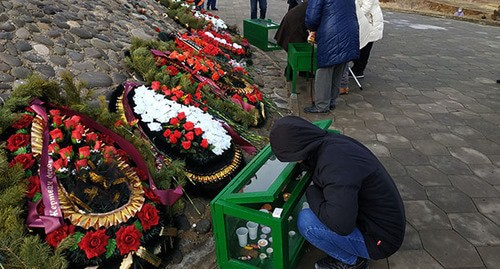 30 December 2020, 12:07
In spite of ban on mass events, residents of Kalmykia mark deportation day
At the monument in Elista, residents of Kalmykia have commemorated those who perished during the Stalinist deportation. The authorities have actually ignored the date by failing to offer a programme of events, and also failed to ensure the sanitary and epidemiological safety in the territory of the memorial, activists report.
On December 28, residents of Kalmykia traditionally laid flowers at the memorial and lit lampads, the "Caucasian Knot" correspondent reports. Monks held prayers for deportation victims.
Due to restrictions introduced due to the pandemic, most notable cultural events were held in social networks. On the eve of the 77th anniversary of Kalmyks' deportation, activists of the "Kalmyk Women Abroad" community posted videos dedicated to the tragic date on their YouTube channel.
Tseren Basangov, an activist of the "Elista is Our City" movement, has noted that the risk of getting infected with coronavirus did not frighten residents of Kalmykia, since the deportation was "a matter of life and death of the entire nation."
When the deportation of Kalmyks began, Svetlana Byurchieva was two years old. She knows about the events of December 28, 1943, from the stories of her mother. Svetlana's first childhood memories about Siberia are associated with the feeling of hunger and the death of her brother.
Elena Korsaeva, who was born in the Urals in 1951, did not understand in her childhood that she had to do with the deported nation. She has admitted that moving back to Kalmykia was a difficult test for the family.
This article was originally published on the Russian page of 24/7 Internet agency 'Caucasian Knot' on December 29, 2020 at 08:24 pm MSK. To access the full text of the article, click here.
Author: Badma Byurchiev Source: CK correspondent