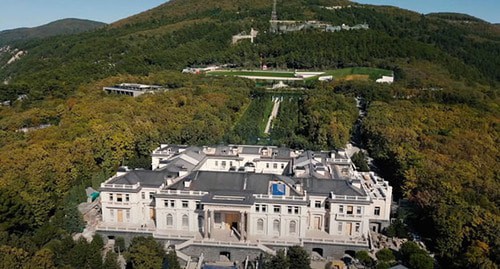 20 January 2021, 08:28
After Navalny's arrest, FBK issues inquiry into Putin's palace in Gelendjik
The Anti-Corruption Foundation (headed by Alexei Navalny and known under the Russian abbreviation of FBK) has issued an investigatory film about Putin's palace near the city of Gelendjik in the Krasnodar Territory, the largest private house in Russia, which is being built for the money of state-owned companies. The total area of the palace is over 17,000 square meters; a land plot of 7000 hectares is adjacent thereto; this area could house 39 Monaco principalities, says Alexei Navalny.
The "Caucasian Knot" has reported that on January 17, Russian opposition leader Alexei Navalny, who flew from Berlin to Moscow, was detained at the Sheremetyevo Airport, and on January 18, the court ruled to keep him in custody until February 15, 2021.
In his foreword to the film, Alexei states that the film is recorded in Germany; and the FBK plans to release it only after Navalny's return to Russia. "We don't want the main hero of the film to think that we are afraid of him, and that I'll tell about his very top secret while being abroad. I really want to understand how an ordinary Soviet officer has turned into a madman, obsessed with money and luxury, not just crazy, but literally ready to destroy the country and kill people for the sake of his chests of gold," Alexei Navalny has stated.
He has added that the palace near Gelendjik is the most secret and severely guarded object in Russia. "This is not a country house, not a dacha, not a residence – this is a whole city, but rather a kingdom. It has impregnable walls and fences, its own port, its own security service, a church, its own access control, a no-fly zone and even its own border checkpoint. This is directly a separate country inside Russia. And this country has the only and irreplaceable tsar – Putin," says Alexei Navalny.
The palace is being built and maintained at the expense of two state-owned companies – "Rosneft" and "Transneft". The construction cost is about 100 billion Russian roubles.
This article was originally published on the Russian page of 24/7 Internet agency 'Caucasian Knot' on January 19, 2021 at 08:15 pm MSK. To access the full text of the article, click here.