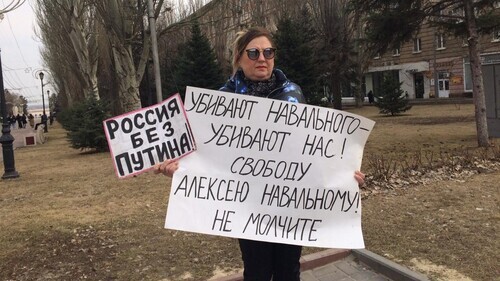 04 April 2021, 10:46
Volgograd activists demand to provide Navalny with medical care
Oppositionist Alexei Navalny is kept in colony in torturous conditions, Volgograd solo picketers assert.
The "Caucasian Knot" has reported that on March 31, activists of the "Strategy-31" campaign, Vladimir Vasilchenko, Vladimir Vasikovsky and Galina Tikhenko held solo pickets in Volgograd, where they called for observing the norms of the Constitution and demanded the release of Alexei Navalny.
On April 3, the activists, Tamara Grodnikova, Galina Tikhenko, Elena Sheina and Vladimir Vasikovsky took to solo pickets with posters reading "Freedom and treatment for Navalny!" and "They are killing Navalny – they are killing us! Freedom for Alexei Navalny! Don't be silent!"
On March 31, the opposition leader, Alexei Navalny, went on a hunger strike in the colony where he is serving his prison term. "I have the right to invite a doctor and get medicines. They stupidly wouldn't give me either. I go on a hunger strike demanding to fulfil the law and let an invited doctor come to me," reads the March 31 post in Navalny's Facebook page.
The conditions in which Alexei Navalny is kept are torture, Tamara Grodnikova, an activist, told the "Caucasian Knot" correspondent.
"The refusal to provide the due help in these circumstances is just another attempt to kill the oppositional politician. This is an indirect supreme authorities' interest in his elimination as a dangerous rival amid the falling living standards when authorities are unable to stop this fall," Ms Grodnikova has stated.
This article was originally published on the Russian page of 24/7 Internet agency 'Caucasian Knot' on April 3, 2021 at 06:50 pm MSK. To access the full text of the article, click here.
Author: Tatiana Filimonova Source: CK correspondent