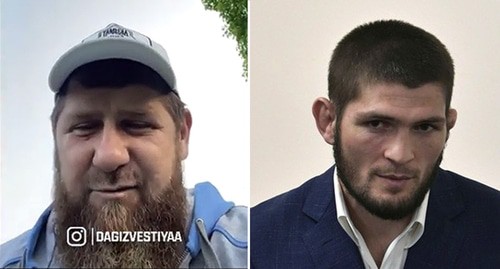 13 May 2021, 17:49
Kadyrov offers Nurmagomedov a duel with "Akhmat" fighter
The leader of Chechnya announces his willingness to pay Khabib Nurmagomedov any remuneration for the victory over a fighter from the "Akhmat" club. Ramzan Kadyrov reproaches the Dagestani fighter for performing under the auspices of the Ultimate Fighting Championship, and not under the flag of Russia or Dagestan.
The "Caucasian Knot" has reported that on October 24, 2020, Dagestani fighter Khabib Nurmagomedov defeated US athlete Justin Gaji and defended his UFC lightweight champion title. After that, Khabib Nurmagomedov announced that he was ending his career as a fighter.
Today, the public account "Dagestanskie Izvestiya" has posted a fragment of the Ramzan Kadyrov's live broadcast on Instagram.
"He completely 'tore' everyone in the UFC, but there is a question [whether] he is able to defeat anyone from the 'Akhmat' club. I am ready to find his weight (an opponent in the appropriate weight category, – note of the 'Caucasian Knot') in the 'Akhmat' club, and I offer the remuneration whatever he may ask for," the leader of Chechnya says on the video.
Furthermore, in his live broadcast on Instagram, Ramzan Kadyrov called Khabib Nurmagomedov a 'UFC project,' the Russian news agency (RIA) "Novosti" reports today.
"Khabib is a good athlete, but he is a UFC project. He is a 100% project, because he has a good relationship with [UFC head] Dana White, and there are good fights there. [...] Khabib is also aware that he is a UFC project. If he is not a project, then why I have never noticed our brother Khabib performing under the flag of the Russian Federation, the flag of Dagestan, or I don't know what else there," said the leader of Chechnya as quoted by the RIA "Novosti".
This article was originally published on the Russian page of 24/7 Internet agency 'Caucasian Knot' on May 13, 2021 at 12:42 pm MSK. To access the full text of the article, click here.