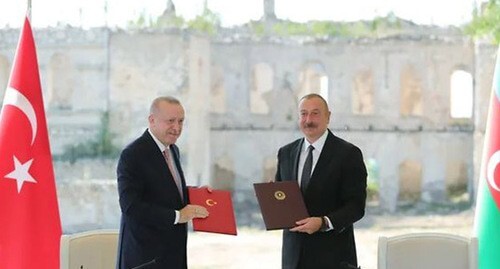 17 June 2021, 13:37
Shusha Declaration evidences strengthening of Turkey's role in the Caucasus
The declaration, signed by Presidents of Turkey and Azerbaijan in Shusha, demonstrates the increased role of Turkey in the region, while there are no benefits for Yerevan from the corridor suggested by Aliev and Erdogan, Armenian experts believe.
The "Caucasian Knot" has reported that on June 15, 2021, Presidents of Turkey and Azerbaijan signed the Shusha Declaration, which includes an agreement on mutual military help and stipulates the creation of the Zangezur Transport Corridor leading to Nakhichevan.
The declaration poses risks not only for Armenia, but for the entire situation in the region, Ruben Safrastyan, a political analyst, is sure.
He believes that in the fall of 2020, Turkey directly intervened in the Karabakh conflict, and with the Shusha Declaration it shows that it is ready to go further – by using the above corridor within Armenia to get connected with Azerbaijan and reach the coast of the Caspian Sea. Besides, according to Mr Safrastyan, the corridor can facilitate the ability of Turkey to transfer its troops and equipment to Azerbaijan.
It is impossible to expect from Azerbaijan and Turkey a project that cares Armenia's interests, Tatul Manaseryan, an economist, believes. He has noted that Armenia found itself in a blockade because of Azerbaijan and Turkey. In his opinion, the international community should condemn the Shusha Declaration, signed in the city that had long belonged to Karabakh and that Azerbaijan obtained as a result of hostilities.
This article was originally published on the Russian page of 24/7 Internet agency 'Caucasian Knot' on June 16, 2021 at 06:45 pm MSK. To access the full text of the article, click here.
Author: Armine Martirosyan Source: CK correspondent