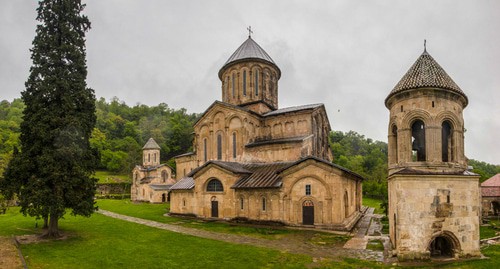 13 August 2021, 12:48
UNESCO links damage to Gelati Monastery with restorers' errors
The ancient frescoes in the Gelati Monastery have been damaged by rainwater due to improper restoration of the roof, the UNESCO has claimed. The Georgia's Ministry of Culture has acknowledged the problem and promised to solve it.
The "Caucasian Knot" has reported that this January, a part of the roof of the Gelati Monastery Complex located near Kutaisi collapsed after a snowfall. The cultural heritage monument is in a deplorable condition; water can damage the ancient frescoes, experts assert.
The Georgian Gelati Monastery Complex was damaged due to improper restoration, the "Formula" TV Channel has reported.
The UNESCO has notified Georgian authorities that the roof should be repaired not later than February 2022, since its absence could lead to further damage to the temple.
Teya Tsulukiani, the Georgian Minister of Culture, has assured that authorities continue working towards saving the Gelati Monastery.
On August 5, Eliso Kiladze, a journalist, held a protest action in front of the Georgian Ministry of Culture. She explained that she wanted to remind that unique frescoes had been destroyed in Gelati, and the reason for this is "the authorities' negligence," the "Netgazeti" reports.
The Gelati Monastery of the Virgin situated near Kutaisi is the most significant medieval monastery in Georgia, the centre of the church and cultural life.
This article was originally published on the Russian page of 24/7 Internet agency 'Caucasian Knot' on August 12, 2021 at 09:08 am MSK. To access the full text of the article, click here.
Author: Galina Gotua Source: CK correspondent