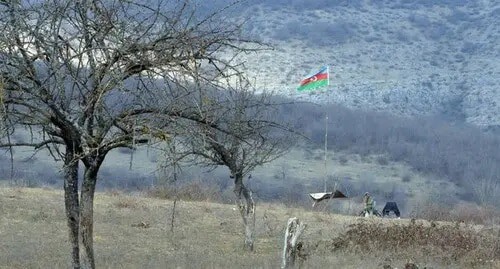 09 November 2021, 10:55
Stepanakert demands to punish Azerbaijani militaries
Those guilty of shelling the workers who were repairing water supply pipes in Stepanakert should be punished, official representatives of Nagorno-Karabakh have stated.
The "Caucasian Knot" has reported that in the afternoon on November 8, at the crossroads near Shushi, Azerbaijani military servicemen opened fire at the workers who were repairing the water supply system; one of the workers died in hospital, and three others are in the state of moderate gravity, the Nagorno-Karabakh Ombudsperson has stated.
According to the General Prosecutor's Office (GPO) of Nagorno-Karabakh, on November 8, at about 3:00 p.m., at an intersection near the city of Shushi, an Azerbaijani serviceman opened fire on the workers of the "Water Supply and Sewage" Closed Joint-Stock Company (CJSC), who were repairing water supply pipes running to Stepanakert. One worker died as a result of a gunshot wound, and three others with gunshot wounds were taken to the Republic's Medical Centre in Stepanakert.
At the above Centre, the "Caucasian Knot" correspondent was told that "three men, one of them 43 years old, the others aged 41 and 31, have been operated on; their condition is assessed by doctors as of moderate gravity."
It is necessary to introduce clear mechanisms both for investigating such criminal actions against residents of Nagorno-Karabakh, and for bringing the perpetrators to justice, Gegam Stepanyan, the Ombudsperson of Nagorno-Karabakh, wrote in his Facebook page.
This article was originally published on the Russian page of 24/7 Internet agency 'Caucasian Knot' on November 9, 2021 at 00:30 am MSK. To access the full text of the article, click here.
Author: Alvard Grigoryan Source: CK correspondent