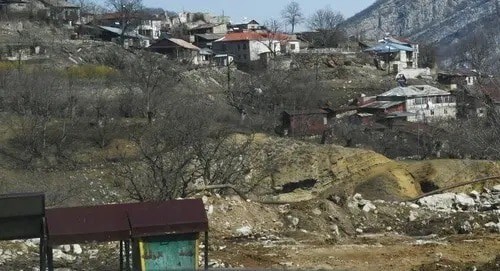 10 November 2021, 08:41
Stepanakert and Baku blame each other over shelling of workers near Shushi
The November 8 shelling of four workers near the city of Shusha (the Armenian name is Shushi), one of whom died, is being investigated in Nagorno-Karabakh under the article about a terror act. Because of the incident, Baku and Stepanakert have accused each other of an attempt to discredit the work of Russian peacemakers in Karabakh.
The "Caucasian Knot" has reported that in the afternoon on November 8, at the crossroads near Shushi, Azerbaijani militaries shelled the workers who were repairing the water supply system; one of them died in hospital, and three others were hospitalized with wounds.
The General Prosecutor's Office (GPO) of Nagorno-Karabakh has reported in its Facebook page that a criminal case was initiated under the articles of ethnic, racial or religious intolerance-motivated murder and a terrorist act on the November 8 incident near Shushi.
"Each such incident and combination thereof are aimed at one goal – to intimidate the Artsakh (Karabakh) Armenians, discredit the Russian peacemaking forces, thereby creating a feeling of insecurity among the people living in Artsakh," the GPO said in its statement that was translated by the "Caucasian Knot" correspondent.
In turn, Leyla Abdullaeva, the head of the press service of the Azerbaijani Ministry of Foreign Affairs (MFA), has stated that Armenia wants to cast shadow on the activities of Russian peacemakers in Nagorno-Karabakh. According to her version, the November 8 incident in the vicinity of Shushi "is the result of another provocation undertaken by the Armenian party."
"Usually, prior to performing any activity in this territory, Russian peacemakers are notified; and such activities are accompanied by peacemakers. This time, Russian peacemakers were not informed, and they did not monitor the works. This, of course, raises serious questions," Ms Abdullaeva has stated.
This article was originally published on the Russian page of 24/7 Internet agency 'Caucasian Knot' on November 9, 2021 at 08:31 pm MSK. To access the full text of the article, click here.
Author: The Caucasian Knot