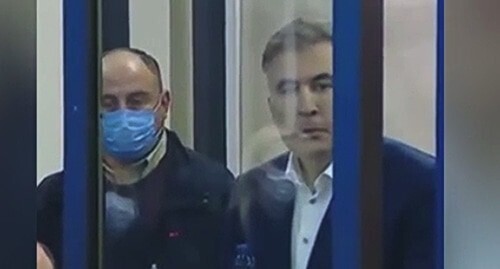 03 January 2022, 18:48
Saakashvili demands visits of independent doctors
Mikhail Saakashvili, who was returned to the Rustavi prison, demands to allow independent doctors visit him and to ensure confidentiality of communication with advocates. The former president of Georgia threatens to start a protest, the defence reports today.
The "Caucasian Knot" has reported that on November 20, 2021, Mikhail Saakashvili suspended his hunger strike and was transferred from the Rustavi prison No. 12 to the military hospital in Gori for treatment after the hunger strike. On December 30, it was reported that after a rehabilitation course, Mikhail Saakashvili was returned to the prison in Rustavi.
Saakashvili returned to Georgia in late September and was arrested on October 1, as he had been sentenced in absentia in Georgia to imprisonment within two criminal cases. After his arrest, he held a 50-day-long hunger strike, which he stopped after achieving a transfer from prison and the prison hospital to a military one.
The health state of Mikhail Saakashvili has worsened in prison No. 12 in Rustavi, reports Shota Tutberidze, one of the advocates, who visited the politician in prison. According to the advocate, the defence demands to involve independent experts in Mikhail Saakashvili's treatment, including doctors from the "Empathy" Rehabilitation Centre for Victims of Torture.
Meanwhile, Shota Tutberidze reports that the advocates are not allowed to communicate with Mikhail Saakashvili confidentially and that violates the rights of the advocate and the client.
According to Shota Tutberidze, Mikhail Saakashvili demands to allow a group of independent doctors visit him and to restore "adequate communication."
"If the problems are not settled by January 6 [...], Mikhail Saakashvili will resort to extreme forms of protest. I can say that an extreme form will be used, but at this stage I cannot disclose which one," stated the advocate as quoted by the "InterPressNews" today.
This article was originally published on the Russian page of 24/7 Internet agency 'Caucasian Knot' on January 3, 2022 at 03:01 pm MSK. To access the full text of the article, click here.
Author: The Caucasian Knot