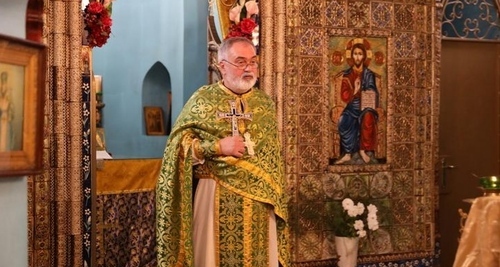 08 August 2022, 11:26
Residents of South Ossetia commemorate casualties of Five-Day War
On August 7, South-Ossetia temples held memorial services on the eve of the 14th anniversary of the onset of the "Five-Day War". It was also decided to hold mourning events and lay flowers to the memorials in the Znaur and Leningor Districts.
Earlier, the Georgia's representative office in the European Union condemned Russia's recognition of Abkhazia and South Ossetia and called to investigate into "all human rights violations."
The Russian operation "on enforcing to peace" was held on August 8-12, 2008, in Georgia, Abkhazia and South Ossetia, and went down in history under as the "Five-Day War".
"Today we mourn and pay tribute and immense respect to all those who died for the freedom and independence of our republic," Alan Gagloev, the President of South Ossetia, has stated. He took part in the memorial service for the victims of the August 2008 war held at the Church of the Nativity of the Blessed Virgin Mary in Tskhinvali.
The hostilities brought sufferings to many residents of South Ossetia and Georgia, eyewitnesses wrote. For two days, women and children "trembled in basements while artillery shelled Tskhinvali, the capital of South Ossetia," said Tatiana Lokshina, the programme director for Russia at the Human Rights Watch (HRW).
For residents of Georgia, most painful memories of the "Five-Day War" are associated with Russian airstrikes and tanks in Tbilisi outskirts, local residents recalled on the 10th anniversary of the war.
This article was originally published on the Russian page of 24/7 Internet agency 'Caucasian Knot' on August 7, 2022 at 04:30 pm MSK. To access the full text of the article, click here.
Source: Caucasian Knot