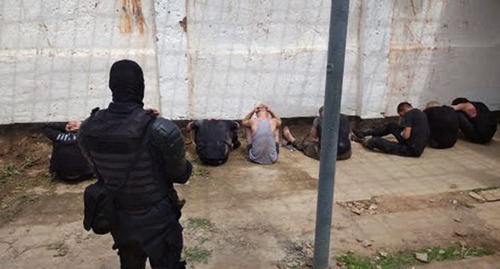 09 August 2022, 17:16
"Gulagu.net" reports beatings of inmates after murder of employee in Kalmyk colony
Over 100 inmates at in IK-2 (Corrective Colony) located in Kalmykia were beaten up by law enforcers under an unspoken command from Moscow in connection with the murder of a colony employee, the human rights project "Gulagu.net" has reported. According to the source, two convicts suspected of attacking the prison staff were tortured before.
The "Caucasian Knot" has reported that on August 5, two prisoners kept at the high security colony located in the dwelling settlement of Yashkul attacked the colony staff, after which one of them died, and the other was hospitalized in grave condition. Also, according to investigators, the convicts entered the hostel and wounded six other colony employees.
Vladimir Osechkin, the founder of the "Gulagu.net" project, has noted with reference to his source that an unspoken order had been received from Moscow to Kalmykia to "teach a lesson" to the prisoners who had attacked the employees.
It is noteworthy that the two prisoners suspected of attacking the employees "has been earlier subjected to humiliation and inhuman treatment."
Let us remind you that in November 2021, the "Gulagu.net" project posted a video of torturing natives from Chechnya, Dagestan, Georgia and Azerbaijan at a prison hospital located in Saratov.
This article was originally published on the Russian page of 24/7 Internet agency 'Caucasian Knot' on August 8, 2022 at 02:12 pm MSK. To access the full text of the article, click here.
Source: Caucasian Knot