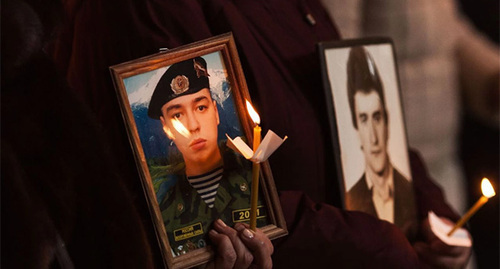 11 November 2022, 14:27
Official data on compensations suggest the level of losses during the SMO
Based on the amount of compensations paid for the deaths and wounds of participants in the special military operation (SMO) in Ukraine, as well as on the data on the ratio of those who perished to those wounded, it can be assumed that more than 15,000 families received compensations for the deaths of their relatives, analysts of the "We Can Explain" Telegram channel believe. From the amounts of payments to casualties' families, announced by Dagestani authorities, it follows that at least 318 families in the republic have received the due compensations.
The "Caucasian Knot" has reported that by November 8, the number of natives of Southern Russia, who perished in Ukraine, confirmed by the authorities, had reached 900 persons.
The above "We Can Explain" Telegram channel has noted that as of November 2, a total of 166.2 billion roubles had been paid for the perished militaries.
On September 21, Sergey Shoigu, the Russia's Defence Minister, said on the RT TV Channel that the total losses of Russian militaries in the SMO in Ukraine had amounted to 5937 people.
On March 29, 2022, Sergey Melikov, the head of Dagestan, announced that each casualty's family would receive one million roubles from the "All Together" Fund, the "Novoye Delo" outlet writes.
In this case, the total number of military servicemen from Dagestan who perished in Ukraine has reached 318 persons, the "Kavkaz.Realii"* project has noted.
Let us note here that as of November 9, the deaths of at least 247 natives of Dagestan have been officially confirmed since the start of the SMO in Ukraine.
This article was originally published on the Russian page of 24/7 Internet agency 'Caucasian Knot' on November 10, 2022 at 02:57 pm MSK. To access the full text of the article, click here.
Source: Caucasian Knot