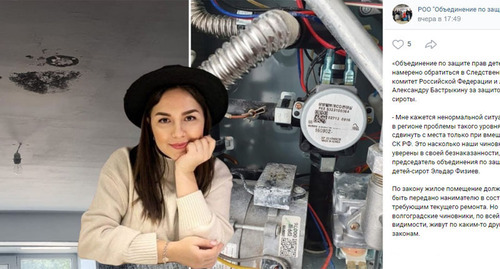 18 December 2022, 23:59
In the Volgograd Region, orphan complains about provided housing
Anastasia Khodosevich, a resident of the dwelling settlement of Rudnya, has complained that officials provided her, as an orphan, with an apartment with a broken roof and without hot water and heating. The "Association for the Protection of Orphans' Rights" has stated that they intend, acting through the Investigating Committee of the Russian Federation (ICRF), to force the authorities to provide Khodosevich with proper quality housing.
The "Caucasian Knot" has reported that orphans in the Volgograd Region, whom the authorities, according to the law, must provide with housing, have repeatedly complained about problems in obtaining the housing guaranteed to them by the law. Thus, in 2020, 17 orphans appealed to the prosecutor's office with a complaint that they had been waiting for a long time for the housing that is due to them by the law.
Last year, Anastasia Khodosevich received her due housing. However, after a while it turned out that the apartment was not suitable for living. The roof turned out to be faulty. Officials later agreed to fix it. There were also problems with heating and hot water supply, the "Volgograd Online" has reported.
The Construction Committee of the Volgograd Region answered the girl that they had no money in the budget, and that the repair of her apartment would be financed only after the New Year. She has clarified that she had to spend the winter without heating.
The "Association for the Protection of Orphans' Rights" will file a complaint with the ICRF concerning Anastasia Khodosevich, Eldar Fiziev, the head of the Association, has promised.
"It seems to me that the situation is abnormal when the problems of this level in the region can be solved only with the intervention of the ICRF. This shows how our bureaucrats are confident of their impunity," Mr Fiziev is quoted in the Association's page in the "VKontakte" social network.
This article was originally published on the Russian page of 24/7 Internet agency 'Caucasian Knot' on December 17, 2022 at 07:39 am MSK. To access the full text of the article, click here.
Source: Caucasian Knot