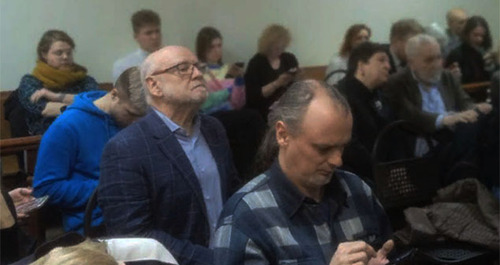 25 January 2023, 23:55
Journalists were not let to session on MHG liquidation
The Moscow City Court (MCC) has begun considering a liquidation claim against the Moscow Helsinki Group (MHG). Journalists and visitors were not allowed into the courtroom, offering them to watch the session by video broadcast.
The "Caucasian Knot" has reported that on December 20, 2022, it became known that the Russian Ministry of Justice (MoJ) had filed a lawsuit with the MCC to liquidate the MHG under the pretext that being a regional organization, it took part in events held in other regions, said Eva Merkacheva, a member of the Presidential Human Rights Council. The MoJ decided to liquidate the Group because of its monitoring over the trials conducted outside of Moscow, the MHG itself has reported.
The MHG was founded in 1976 to assist in implementing the USSR's commitments to respect the human rights, fixed in the 1975 Helsinki Accords. In 1982, the MHG survived the liquidation and resumed its work in 1989, the "Memorial" Centre for Human Rights Defence has recalled.
This article was originally published on the Russian page of 24/7 Internet agency 'Caucasian Knot' on January 25, 2022 at 12:02 pm MSK. To access the full text of the article, click here.
Source: СK correspondent