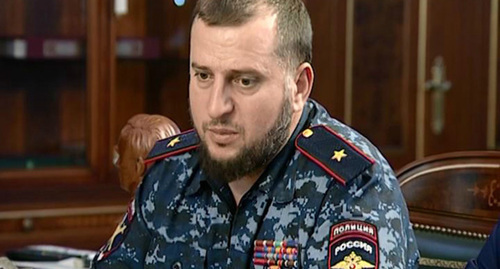 26 January 2023, 17:17
Alaudinov treats video with complaints against Chechen fighters as staged
Apti Alaudinov, the commander of the "Akhmat" Special Forces unit, has called the video with a complaint on behalf of Russian fighters about the actions of Chechen counterparts as staged, claiming that his subordinates never resort to illegal actions.
The "Caucasian Knot" has reported that on November 3, 2022, Ramzan Kadyrov reported that Alaudinov, after resigning from the post of the Secretary of the Security Council of Chechnya, received the rank of major general and took the post of deputy commander of the army corps of the People's Militia of the Lugansk People's Republic (LPR), while retaining the position of assistant to the head of Chechnya. Alaudinov's new appointment was an element of Kadyrov's strategy, who is trying to expand the sphere of his influence with the help of loyal persons, analysts have suggested.
Earlier, Kadyrov explained that Alaudinov, as the commander of the "Akhmat" special unit, "proved himself well" in the special military operation (SMO) in Ukraine.
"A video of 'fighters' of Ukrainian national formations is being circulated, who, dressed in the uniform of Russian militaries, complain about their unbearable suffering from the Akhmat special fighters," Apti Alaudinov wrote in his Telegram channel.
If indeed "some offenses were committed by our fighters," then there are "relevant authorities to deal with them," he has added.
Let us remind you that Apti Alaudinov was dismissed from the post of deputy head of the Chechen Ministry of Internal Affairs (MIA) by a presidential decree dated March 18, 2021. This happened amid the resonance from the publication of the "Novaya Gazeta" with the story of a former soldier of the Kadyrov regiment, who became an eyewitness to extrajudicial executions in Chechnya. Alaudinov persecuted dissidents on trumped-up charges and intimidated critics of the authorities; because of that he is known in Chechnya as a cruel person, human rights defenders assert.
This article was originally published on the Russian page of 24/7 Internet agency 'Caucasian Knot' on January 25, 2022 at 08:37 am MSK. To access the full text of the article, click here.
Source: Caucasian Knot