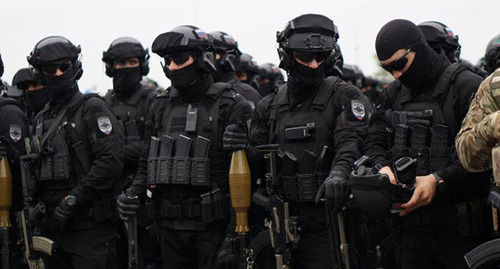 21 March 2023, 16:19
Chechen police report two militants killed in 2022
In Chechnya, law enforcers uncovered a terrorist cell and killed two militants, the republic's Ministry of Internal Affairs (MIA) stated in a 2022 report, although Ramzan Kadyrov announced back in 2021 that the armed underground in Chechnya had been liquidated.
The "Caucasian Knot" has reported that on January 20, 2021, Kadyrov reported that six militants led by Aslan Byutukaev had been killed in a special operation held in the village of Katar-Yurt. "The bandit underground in the Chechen Republic is completely over!" Ramzan Kadyrov then stated.
Aslan Byutukaev was involved in the terror act at Domodedovo Airport in 2011, and in the militants' attack committed in Grozny on December 4, 2014.
The Chechen MIA has reported that in 2022, a total of 104 crimes of a terrorist nature were detected, including the liquidation of a terrorist cell and the killing of two alleged militants, the "Kavkaz.Realii"* project has reported.
"In the republic's territory, the activities of a terrorist cell, which included five people, have been suppressed. Two members of an illegal armed formation (IAF) were shot dead, when they tried to render armed resistance during detention," says the MIA's website.
In November 2022, the Russian General Prosecutor's Office (GPO) published data on the number of crimes registered in January-October 2022. Most terrorist crimes were detected in Dagestan (394 such crimes). Then, goes Moscow (121 crimes), followed by Chechnya, where 96 such crimes were registered.
This article was originally published on the Russian page of 24/7 Internet agency 'Caucasian Knot' on March 20, 2023 at 04:48 pm MSK. To access the full text of the article, click here.
Source: Caucasian Knot