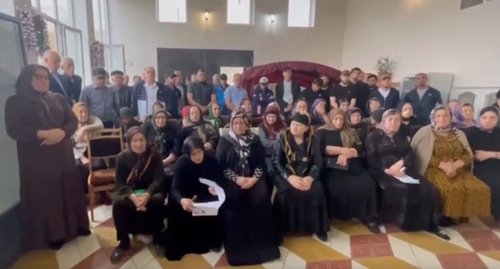 21 May 2023, 21:44
Relatives of Dagestani coach Timur Arslanbekov turn to Putin for help
Relatives and friends of Timur Arslanbekov, a coach from Buynaksk, have recorded a video appeal to the President of Russia, in which they demanded to stop the criminal prosecution of the coach and investigate the circumstances under which he was beaten by law enforcers.
The "Caucasian Knot" has reported that authorities of Buynaksk refused to sanction a protest action planned by relatives of Timur Arslanbekov, a coach in wushu-sanda, who had complained of being beaten up by law enforcers. His relatives and friends will continue seeking a sanction for the protest action.
In the video appeal, Timur's mother, Atikat Arslanbekova, said that her three sons had taken part in the special military operation (SMO) in Ukraine; two are still there; one was wounded and awarded the Order of Courage. Timur never had any problems with the law, the mother has stated.
She was followed by a woman who said that Arslanbekov's relatives turn to the president as the last resort. "If there is no reaction, it remains to follow the Gasanguseinov brothers' father, who was heard only after he went out to a solo picket in Makhachkala square," the woman said.
An acquaintance of Arslanbekov has added that well-known people and activists had spoken out in Timur's support, but so far there has been no proper reaction to this.
According to Timur's advocate, his beating up is not actually investigated, as investigators see no corpus delicti in law enforcer's actions, although the beatings were recorded.
Timur Arslanbekov has competed in various competitions; he is the owner of the Wushu World Cup. For about 20 years he has been engaged in coaching at the school. He wasn't engaged in active public life and had conflicts with authorities and law enforcers, the Arslanbekov's entourage has noted.
This article was originally published on the Russian page of 24/7 Internet agency 'Caucasian Knot' on May 20, 2023 at 10:52 pm MSK. To access the full text of the article, click here.
Author: Oleg Ionov Source: СK correspondent