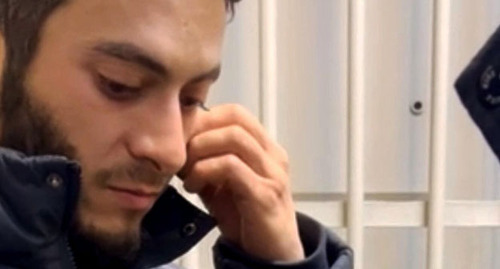 01 June 2023, 22:14
Chechen investigators refuse to open case on Arsamikov's kidnapping
The Department for Chechnya of the Investigating Committee of the Russian Federation (ICRF) considered the return of Idris Arsamikov home from a Moscow airport to be voluntary and refused to institute a criminal case on his kidnapping, the "SK SOS Crisis Group"* reported.
The "Caucasian Knot" has reported that advocates intended to visit Idris Arsamikov, but his fellow villagers did not allow them to do so. Human rights defenders note that the lack of information about Idris Arsamikov gives reason to worry about his life.
The ICRF's Department for Chechnya checked a complaint filed in February by Idris Arsamikov's defenders. According to the investigators' information, Idris Arsamikov, who had lived in the Netherlands for many years and had a humanitarian residence permit there, was going to fly there for work. The policeman who delivered Idris Arsamikov to Chechnya allegedly offered the young man to return to his homeland, because his mother was worried about him, and the young man allegedly went with the policeman voluntarily.
Idris Arsamikov is involved as a witness in a criminal case on fraud. After being questioned at a police station, he was allowed to go home. According to the ICRF's Department for Chechnya, the police did not violate anything, and therefore, the institution of a criminal case was denied, reports the "SK SOS Crisis Group"* on its Telegram channel.
Let us remind you that Idris Arsamikov left Russia after being beaten and tortured with electric current in the summer of 2018 after his detention.
Earlier, on February 17, the Ministry of Foreign Affairs (MFA) of the Netherlands called on the authorities of Russia to guarantee Idris Arsamikov's safety. On February 23, the European Parliament group on LGBT rights called on the authorities of Chechnya to release Idris Arsamikov, as he was "in mortal danger."
*Included by the Russian Ministry of Justice (MoJ) into the register of foreign agents.
This article was originally published on the Russian page of 24/7 Internet agency 'Caucasian Knot' on May 31, 2023 at 04:24 pm MSK. To access the full text of the article, click here.
Source: Caucasian Knot