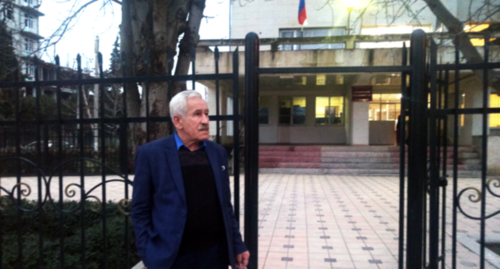 16 September 2023, 17:13
ECtHR awards Derbent resident Amakhanov compensation for beating by law enforcers
The European Court of Human Rights (ECtHR) obliged the authorities of Russia to pay 26,000 euros to Temirkhan Amakhanov, a resident of Derbent, recognizing him as a victim of torture by law enforcers. The ECtHR's decision was pronounced against the backdrop of the Russia's refusal to implement the decisions of the Strasbourg Court.
The "Caucasian Knot" has reported that in June, in Derbent, a court found law enforcers Gasan Adalov and Magomed Yunusov guilty of causing grievous harm to the health of Temirkhan Amakhanov and sentenced them to four years of imprisonment. Temirkhan Amakhanov complained that he still suffers from health problems, although six years have passed since the beating.
In April 2016, two policemen broke into Temirkhan Amakhanov's house. The resident of Derbent claimed that the law enforcers attacked him, and when he began to defend himself, one of them fired a pistol. A year later, law enforcers took him to a police station, where they beat him so severely that Temirkhan Amakhanov had to have his spleen amputated. Temirkhan Amakhanov tried to get those law enforcers criminally prosecuted, but they were not prosecuted for abuse of power until 2019, after repeated complaints about the investigator's inaction.
The ECtHR has emphasized that it considered the complaint as it relates to events that occurred before September 16, 2022, when Russia ceased to be a party to the European Convention on Human Rights.
This article was originally published on the Russian page of 24/7 Internet agency 'Caucasian Knot' on September 15, 2023 at 07:55 am MSK. To access the full text of the article, click here.
Source: Caucasian Knot