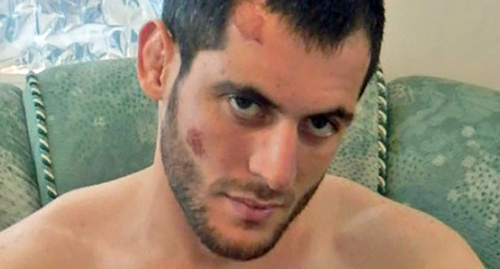 08 June 2017, 23:44
Amriev's defence reports his extradition from Belarus to Russia
Belarusian power agents have extradited Murad Amriev to Russia; and there is every reason to worry for his life, said his advocate Pyotr Zaikin.
The "Caucasian Knot" has reported that on June 4, in the Bryansk Region, Murad Amriev was detained on the charge of using a forged document. The police released Murad Amriev, but he was cordoned off by law enforcers in masks. However, he managed to escape. According to the "Novaya Gazeta", Amriev was cordoned off by law enforcers from Chechnya. On June 8, Murad Amriev was detained by border guards in the Belarusian city of Dobrush.
As reported by Igor Kalyapin, a rights defender, a local advocate managed to meet Murad Amriev at the Dobrush ROVD (District Interior Division), while the Russian lawyer Pyotr Zaikin was not admitted to Amriev, who is a native of Grozny. Amriev stated that he wanted to get political asylum in Belarus, but all his appeals were ignored.
According Pyotr Zaikin, at 8:20 p.m. Moscow time, a column of six vehicles with Belarusian number plates drove out of the yard of the Dobrush ROVD; the column included two patrol UAZ vans and a minibus.
"We followed them; as a result, two cars broke away from us, and, apparently, now the detainee has been handed over to Russian power agents. In fact, this is an extradition," said the advocate. "Now I'm going to Russia, since there are grounds to worry for my client's life," the RBC quotes Pyotr Zaikin as saying.
Full text of the article is available on the Russian page of 24/7 Internet agency 'Caucasian Knot'.