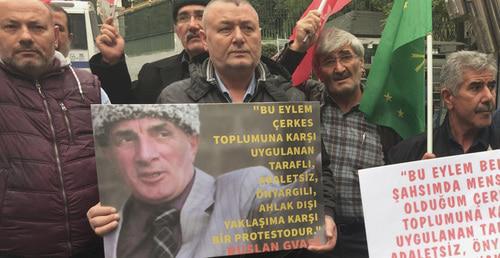 03 October 2017, 18:02
Ruslan Gvashev feels better
Today, Ruslan Gvashev, a Circassian activist, holding his hunger strike since September 11, could get out of his bed and talk to delegates of the Spiritual Administration of Muslims (SAM) of the Krasnodar Territory, although he could not speak for the last four days.
Ruslan Gvashev, 67, a former head of the Circassian Shapsugs' Council of Elders, is on his hunger strike in protest against the fine imposed on him for praying at the Tulip Tree. On October 2, doctor diagnosed him with a stroke.
Today, a SAM delegation has visited Gvashev in his house in the village of Bolshoi Kichmai. The activist himself told the "Caucasian Knot" correspondent about the visit by phone.
Gvashev has noted that he had talked to elders for more than two hours; however, they did not persuade him to stop the hunger strike.
Full text of the article is available on the Russian page of 24/7 Internet agency 'Caucasian Knot'.
Author: Anna Gritsevich Source: CK correspondent