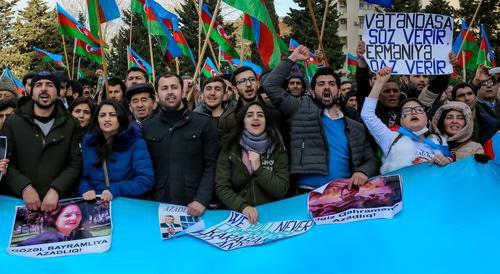 31 March 2018, 20:34
Rally in Baku supports boycott of presidential election
The rally held in Baku by opponents of the early presidential election in Azerbaijan criticized the authorities for the unresolved Karabakh conflict, corruption, human rights violations, and deterioration of the population's economic and social status.
The presidential election in Azerbaijan was scheduled for October 17, 2018. However, on February 5, Azerbaijani President Ilham Aliev appointed early elections on April 11, without presenting any reasons for the move. The opposition criticized the decision to hold early election. Opposition parties and movement announced they would not recognize the election outcome.
The "Caucasian Knot" has reported that the rally of opponents of the early presidential election began today at 3:30 p.m. at the stadium of the sports and health complex of the Yasamal District of Baku.
In his speech at the rally, Ali Kerimli, the leader of the Popular Front Party of Azerbaijan (PFPA), accused authorities of inaction in solving the issue of "the return of occupied territories." He also spoke about corruption in Azerbaijan and drew attention to the fact that the country has over 160 political prisoners.
In his opinion, for the past 15 years, the country's leadership has failed to solve a single problem. Mr Kerimli believes that Ilham Aliev should no longer run for the presidency. "By boycotting the election, people should say 'No' to another usurpation of power," Kerimli has stated.
The rally supported Ali Kerimli's statement by chanting "Resign!", the "Caucasian Knot" correspondent reports.
Full text of the article is available on the Russian page of 24/7 Internet agency 'Caucasian Knot'.
Author: Faik Medzhid Source: CK correspondent