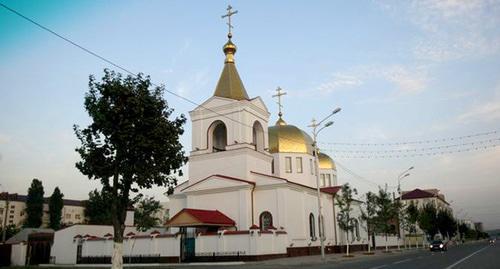 19 May 2018, 20:45
Men killed in attack on church in Grozny identified
During militants' attack on the Archangel Michael Church in the capital of Chechnya, two policemen from Saratov, Kairat Rakhmetov and Vladimir Gorskov were killed. Three of the four killed militants are residents of Chechnya; the attackers' leader lived in a neighbouring region, Ramzan Kadyrov, the head of the republic, has stated.
The "Caucasian Knot" has reported that today seven persons perished in the attack on the church in the centre of Grozny, namely, two policemen, four militants and one parishioner. Two other policemen were wounded.
The attempt to capture the church in Grozny reminded of the similar attack in Kizlyar and became the second case of attacking Orthodox believers of Northern Caucasus since the start of the year. The responsibility for the February attack in Kizlyar, where five people were killed, was claimed by the "Islamic State" (IS), a terrorist organization banned in Russia by the court.
"Senior police sergeants Kairat Rakhmetov and Vladimir Gorskov were killed. They were on their service mission in Grozny," the website of the Russian Ministry of Internal Affairs (MIA) has reported.
Three killed militants were identified as residents of Chechnya; the fourth one was a resident of a neighbouring district, the Chechen leader Ramzan Kadyrov has stated. According to his story, the MIA has established that the murdered resident of the neighbouring region was the leader of the grouping.