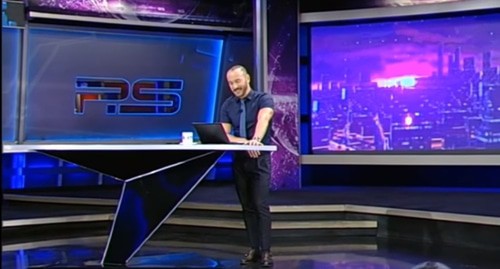 09 July 2019, 17:09
Georgian analysts believe the incident with TV presenter who insulted Putin is over
Giorgi Gabuniya, who insulted Vladimir Putin on air of the "Rustavi-2" TV Company, did not violate the legislation, but his statement's lexicon is unacceptable, said Mamuka Zhgenti, an expert at the Georgian Institute of European Values. The incident can be considered settled, as the Georgian authorities have reacted to it, said Valery Chechelashvili, the head of the Georgian Foundation for Strategic and International Studies.
The "Caucasian Knot" has reported that at night on July 8, several hundred people gathered outside the "Rustavi-2" building demanding apologies for Giorgi Gabuniya's obscene words about the President of Russia on air of this TV Company.
The Ministry of Foreign Affairs (MFA) of Georgia has treated Gabuniya's statement as a "provocation."
The ruling "Georgian Dream-Democratic Movement" Party has treated the incident as "the gravest political provocation" and an attempt of a coup d'état.
Georgian experts doubt that the private "Rustavi-2" TV Company may have any serious consequences of Gabuniya's statement.
Gabuniya did not violate the legislation, as he expressed his personal position, Mamuka Zhgenti believes.
The authorities' statements about the situation with the "Rustavi-2" indicate their desire to affect the freedom of speech, said Tamar Kintsurashvili, the executive director of the Media Development Foundation.
This article was originally published on the Russian page of 24/7 Internet agency 'Caucasian Knot' on July 9, 2019 at 03:23 am MSK. To access the full text of the article, click here.
Author: Inna Kukudjanova, Galina Gotua Source: CK correspondents