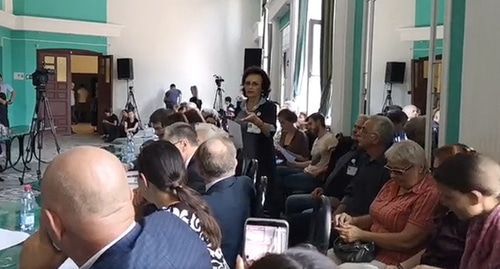 03 September 2019, 19:57
Authorities report compensation to victims of terror act in Beslan
Russia paid the compensation awarded by the European Court of Human Rights (ECtHR) to the victims of the terror act in the Beslan school in 2004, except for one applicant, the Russian Ministry of Justice (MoJ) reported.
The "Caucasian Knot" has reported that on April 13, 2017, the ECtHR recognized a violation of the rights of relatives of the victims killed and injured when the Beslan school was captured in 2004 and awarded 409 applicants the compensation in the amount of 2.955 million euros.
"The successors of the woman who did not receive compensation have not yet submitted the documents necessary for the payment," the press service of the Russian MoJ reported as quoted by the "Interfax".
Earlier, the committee "Mothers of Beslan" said that Russia did not comply with all the decisions of the European Court, which decided not only to pay compensation, but also to complete the investigation into the case on the Beslan terror act.
On September 1, members of the committee "Mothers of Beslan" called on Alexander Matovnikov, the presidential envoy to the North-Caucasian Federal District (NCFD), to take personal control over the investigation into the terror act.
Russia did not investigate the events at the Beslan school, although the country recognized the decision pronounced by the European Court, stated Ella Kesaeva, the co-chair of the public organization "Beslan's Voice".
Earlier, Alexander Matovnikov has admitted that the assault on the school building captured by the terrorists was being prepared initially, although local residents opposed the idea of the assault. The presidential envoy has also confirmed that the school building was shelled from a tank.
This article was originally published on the Russian page of 24/7 Internet agency 'Caucasian Knot' on September 3, 2019 at 11:52 am MSK. To access the full text of the article, click here.