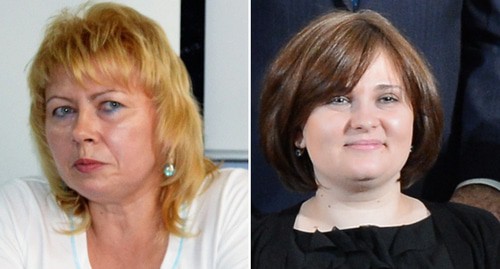 07 February 2020, 11:45
Milashina's and Dubrovina's colleagues outraged at attack on them in Grozny
Marina Dubrovina, an advocate, and Elena Milashina, a journalist, have repeatedly received threats while working in Chechnya. The attack on them in Grozny was organized with the knowledge of local authorities, their friends and colleagues are sure.
Late on February 6, Elena Milashina, an observer of the "Novaya Gazeta", and Marina Dubrovina, an advocate, were attacked at the "Continent" Hotel in Grozny. The attackers – a group of men and women – beat them up with their hands and boots.
Milashina and Dubrovina came to Grozny to attend the trial of Islam Nukhanov, who had tried to publicize information about luxurious life of Chechen officials. After torture, the 27-year-old Nukhanov was accused of storing cartridges.
Ms Milashina herself said that they were attacked in the hotel lobby.
"I noticed a big group of people, men and women, over 15 of them, in the lobby. Several people came up to us when we stood at the elevator, surrounded us and started pushing. One of the women said that we had come to defend Wahhabis. [ ...] The other woman [...] slapped me on the face with force. Then, the whole crowd began beating up Marina Dubrovina and me; they grabbed our necks and heads, knocked down to the floor, and beat our heads against the marble floor with great force," says the explanatory note, posted by Elena Milashina.
According to her story, the hotel concierge didn't react at all to the attack, which lasted for about 15 minutes, and subsequently claimed that he had not seen or heard anything.
The information on the attack on Dubrovina and Milashina was commented by Igor Kalyapin, the head of the "Committee against Torture" (CaT): "In the 'safest' city of Grozny, around midnight, another attack was committed on two women – a journalist and a lawyer [...] who once again got involved in an uncomfortable case for Chechen authorities," Mr Kalyapin wrote in his Facebook page.
The human rights defender has noted that people from the retinue of the head of Chechnya "were afraid to use their powers officially" and hired a crowd of "indignant citizens" to commit the execution. "Of course, law enforcers will find no one of these 'best citizens', who have beaten up in a crowd the two defenceless women," Igor Kalyapin has added.
This article was originally published on the Russian page of 24/7 Internet agency 'Caucasian Knot' on February 7, 2020 at 06:19 am MSK. To access the full text of the article, click here.
Author: Oleg Krasnov Source: CK correspondent