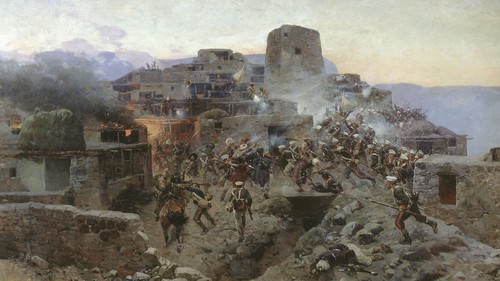 15 March 2020, 11:59
Historians point to absence of freedom in studying Caucasian War
A politicized attitude towards the Caucasian War impedes the objective study thereof, Larisa Zvizhba, a historian, has stated. In Northern Caucasus, scientists cannot go beyond the framework of concepts supported by local authorities, Vadim Mukhanov, a researcher of the Caucasus, believes.
On February 5, 2020, the Moscow Museum of Decorative and Applied Arts opened an exhibition "Empire and the Caucasus: Weapons, Uniforms and Military Traditions of the 19th-early 20th Centuries". Historians and visitors have noted that the organizers tried to avoid such sensitive topics like deportation of Circassians.
The Caucasian War was the longest military conflict involving the Russian Empire, which lasted for almost 100 years and was accompanied by heavy casualties both of the Russian and Caucasian nations.
A number of actions of the Russian authorities and militaries had a defiant and a "teasing" character for mountaineers, Larisa Zvizhba, an Orientalist, has noted. According to her version, the situation was aggravated by the resettlement to the territories of the Caucasus newly joined to the Russian Empire.
The politicized nature of the Caucasian War is reflected in the exaltation of Russian generals, she believes.
The historians involved in studying the Caucasus War face restrictions in their work, Khadjimurad Donogo, a Dagestani historian, has pointed out, adding that erecting monuments to generals of the time of the conquest of the Caucasus is inadmissible.
This article was originally published on the Russian page of 24/7 Internet agency 'Caucasian Knot' on March 14, 2020 at 09:44 am MSK. To access the full text of the article, click here.
Author: Rustam Djalilov Source: CK correspondent