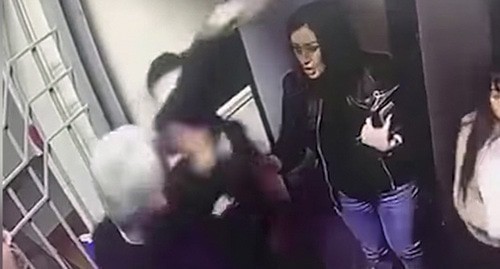 29 May 2020, 17:36
Advocate Diana Tsipinova goes on hunger strike in Baksan IVS
Diana Tsipinova, who was suspected of attacking policemen in the town of Nartkala, refused to accept food in protest against her detention at an IVS (temporary detention facility), her advocate reports today.
The "Caucasian Knot" has reported that on May 28, law enforcers detained for 48 hours advocate Diana Tsipinova, who was suspected of using violence against policemen during a conflict in Nartkala.
On May 20, advocates Natalia Magova, Diana Tsipinova, and Lyudmila Kochesokova arrived at a police station in Nartkala. For 40 minutes, they did not quit their attempts to get a permission to visit their client and colleague Ratmir Zhilokov, who was detained by law enforcers. The law enforcers did not like being filmed on video, and they "used force to drive the advocates out of the building." According to Diana Tsipinova, she was brought into the building, handcuffed, and held there until 7 a.m.
Today, advocate Magomed Abubakarov, representing the interests of Diana Tsipinova, has informed the "Caucasian Knot" correspondent about her hunger strike.
"Any person would behave in the same way. Diana Tsipinova defended herself. It was self-defence, because the video record clearly shows that violence was used against my client. Furthermore, Diana <passed a medical examination>, she has got blood stains and abrasions," Magomed Abubakarov emphasized.
This article was originally published on the Russian page of 24/7 Internet agency 'Caucasian Knot' on May 29, 2020 at 02:34 pm MSK. To access the full text of the article, click here.
Author: Lyudmila Maratova Source: CK correspondent