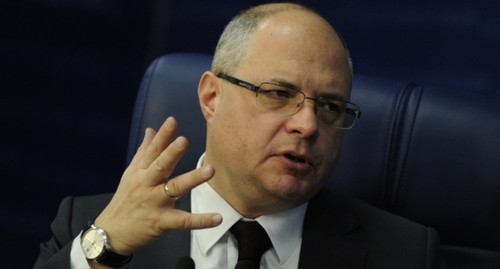 22 June 2020, 13:08
Georgian politicians treat Gavrilov's demand for apology as attempt to save face
On the anniversary of the Tbilisi events in June 2019, Sergey Gavrilov, a Russian State Duma MP, has claimed apologies from Georgian authorities. The Gavrilov's claim is aimed primarily at the domestic Russian users, by means of this statement, he tries to save his face, the Georgian politicians interviewed by the "Caucasian Knot" believe.
The "Caucasian Knot" has reported that protests in Georgia began after Sergey Gavrilov, a Russian State Duma MP, took the Speaker's chair at the Georgian Parliament at a sitting of the parliamentary Orthodox assembly on June 20, 2019. In the evening of that day, the parliament building was surrounded by thousands of indignant people; clashes with policemen broke out. The protesters tried to break through the cordon and enter the building. Police used tear gas and rubber bullets, detaining 305 people.
On June 20, Sergey Gavrilov, a State Duma MP, posted a video message on his Instagram page dedicated to the anniversary of the events in Tbilisi, entitled "Gavrilov's Night".
"I'm absolutely sure that ordinary people should give an opportunity and a command to the leadership of Georgia, a country that is close to us, in order to finally restore law and order, and democratic rights and freedoms in their country; to stop those who committed a blasphemy last year and made a putsch under frankly anti-Orthodox, anti-Christian slogans, with the slogans of trampling our holy traditional family values, and under Russophobian slogans," Gavrilov wrote, in particular.
He has added that the apologies he claims are an important precondition for the restoration of Georgian-Russian relations.
According to Gigi Bokeriya, a co-founder of the "European Georgia" Party, Sergey Gavrilov failed in Georgia last year; therefore, he has to make loud statements.
David Berdzenishvili, one of the leaders of the Republican Party of Georgia, believes that Gavrilov's words are unlikely to find any support in the Georgian society.
"This statement is valuable only in Russia; it's intended for domestic users only. They are forced to pretend that they are somehow reacting to the situation in Georgia," Mr Berdzenishvili told the "Caucasian Knot" correspondent.
This article was originally published on the Russian page of 24/7 Internet agency 'Caucasian Knot' on June 22, 2020 at 02:48 am MSK. To access the full text of the article, click here.
Author: Beslan Kmuzov Source: CK correspondent