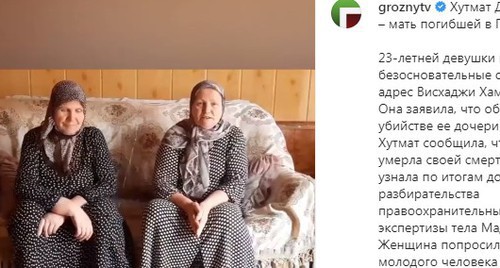 28 June 2020, 10:09
Mother of deceased Gudermes woman apologizes to her son-in-law
The mother of the 23-year-old woman, who died in Gudermes, has treated the accusations against her the son-in-law as unjustified and asked him to forgive her, the "Grozny" ChGTRK (Chechen State TV and Radio Company) wrote in its Instagram page.
The "Caucasian Knot" has reported that a message was circulated in social networks that on June 12, in the city of Gudermes, a husband killed his 23-year-old wife. After a resonance in social networks, the Chechen Prosecutor began a check. On June 20, the body of the deceased woman was exhumed; her mother stated that she saw bruises on her daughter's body. But on June 23, during a meeting with Ramzan Kadyrov, she apologized for these words.
The mother said that she had accused her son-in-law of killing her daughter "because of rumours." According to her story, her daughter died a natural death, says the message posted in the Instagram page of the "Grozny" ChGTRK on June 27.
"She learned about this after a long inquiry conducted by law enforcement bodies and an examination of the body [of her daughter]. The woman apologized to the young man and urged not to spread rumours about the murder of her daughter and the fault of the family [of her husband]," say the message.
This article was originally published on the Russian page of 24/7 Internet agency 'Caucasian Knot' on June 27, 2020 at 08:19 pm MSK. To access the full text of the article, click here.