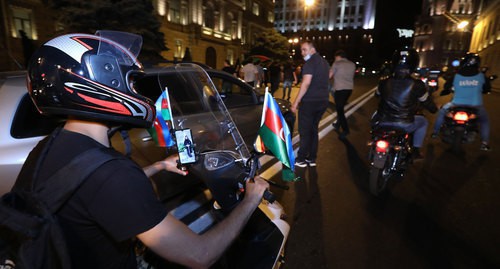 01 September 2020, 18:19
Rights of arrested Azerbaijani oppositionists violated, their relatives claim
The rights of detained activists from the Popular Front Party of Azerbaijan to visits and phone calls are being violated. According to relatives, no advocates are allowed to visit some of the activists arrested after an action held in Baku on July 15.
The "Caucasian Knot" has reported that at night on July 15, an unsanctioned march took place in Baku in support of the Azerbaijani army. The action ended in clashes between the activists and the police. After the action, 48 activists of the Popular Front Party of Azerbaijan (PFPA) were arrested.
Seimur Khazi, a deputy chairman of the PFPA, claims that the rights of the party's activists arrested after the action of July 15 to visits and phone calls are "being grossly violated."
"At best, they only had a possibility to contact once their relatives or advocates via mobile phone, and that was a month ago. Moreover, some of the arrested activists are not even allowed to be visited by advocates hired by their families. At the same time, law enforcers refuse to submit any legal justification for the ban on phone calls. This is politically motivated discrimination," Seimur Khazi told the "Caucasian Knot" correspondent.
Zakrulla Nagiev, the father of Ramid Nagiev, a member of the PFPA Presidium, said that his son called his family only once after his arrest, on July 24.
Relatives and friends of Fuad Gakhramanly, a member of the PFPA Presidium, also express their concern about the absence of communication with him.
"After Fuad had been detained, there were reports of his torture. He did not call us till the Ombudsman visited him. Then, on August 5, Fuad called and told us not to worry," said Polad Gakhramanly, a brother of the arrested PFPA activist. Polad Gakhramanly noted that the phone conversation lasted less than a minute and that since then the relatives cannot contact Fuad.
This article was originally published on the Russian page of 24/7 Internet agency 'Caucasian Knot' on September 1, 2020 at 11:57 am MSK. To access the full text of the article, click here.
Author: Faik Medzhid Source: CK correspondent