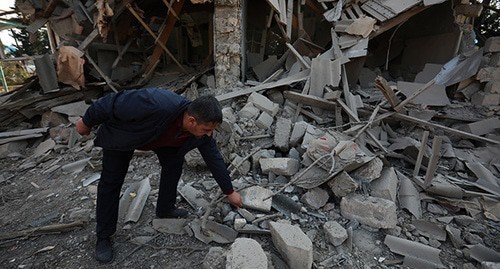 13 November 2020, 08:22
Baku analysts estimate costs of territories' post-war restoration
A complete restoration of the territories that have come under Azerbaijan's control may take 5-10 years and will require at least USD 10 billion, according to the experts interviewed by the "Caucasian Knot".
The "Caucasian Knot" has reported that Azerbaijan will seek compensation from Armenia for the material damage inflicted on the Azerbaijani territories during the time they were under Yerevan's control and under the authorities of the unrecognized republic, Ilham Aliev stated on November 11.
On November 10, an agreement between Russia, Azerbaijan, and Armenia on the cessation of the hostilities in Nagorno-Karabakh came into force. According to the text of the statement, the Azerbaijani army is to stop at occupied positions in Nagorno-Karabakh, and a buffer zone of five Azerbaijani regions surrounding the unrecognized republic is to be voluntarily transferred to Azerbaijan.
First of all, the government will restore the houses and infrastructure destroyed in the frontline areas during the hostilities that started on September 27, 2020, said Avaz Gasanov, the head of the Society for Humanitarian Studies. "These are the dwelling settlements where people live, which have infrastructure, and the scale of destructions is relatively small. It is easier to perform restoration works here and their cost is smaller," Mr Gasanov told the "Caucasian Knot" correspondent.
He has also noted that the territories that have come under Azerbaijan's control have been completely turned into ruins. "It will be necessary to create the entire civil infrastructure from scratch – to build roads, lay water, power and gas supply lines," Avaz Gasanov has concluded.
The restoration works can be fully completed within 5-10 years; and this may require up to USD 10 billion, Natig Djafarli, the head of the Centre for Economic Studies, believes. According to his version, first of all, the demining of the territories should be carried out; then, the security should be ensured, in particular, a reliable protection of the Armenian border. Next, the infrastructure for the restoration of houses should be created.
This article was originally published on the Russian page of 24/7 Internet agency 'Caucasian Knot' on November 12, 2020 at 07:15 pm MSK. To access the full text of the article, click here.
Author: Faik Medzhid Source: CK correspondent