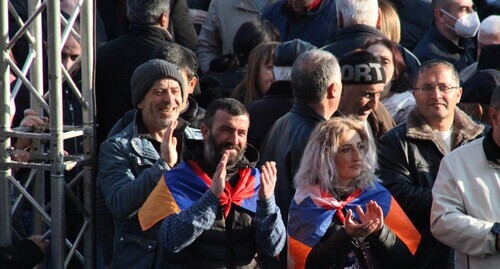 04 March 2021, 08:23
Protesters in Yerevan vow to stay in street until government resigns
The actions of Nikol Pashinyan's government have brought Armenia to the brink of losing its statehood, while the oppositional movement is capable to unite the society, the Yerevan protesters interviewed by the "Caucasian Knot" believe.
The "Caucasian Knot" has reported that on February 25, a new wave of protests was launched in Armenia demanding the resignation of Nikol Pashinyan, the Prime Minister. On that day, Pashinyan was called to resign by the General Staff of the Armed Forces. Supporters of the opposition have set a tent camp outside the parliament building and began a round-the-clock protest action.
On March 3, according to the Yerevan Police, some 4000 people took part in the opposition rally.
Saida Pogosyan, a non-partisan resident of Yerevan, tries not to miss opposition rallies. According to her story, Armenian people should unite in order to achieve Pashinyan's resignation.
"For me, the Fatherland and national interests are the priorities; therefore, I support the oppositional movement. The country is in a catastrophic situation; and it is necessary to save at least what is left," she told the "Caucasian Knot".
Mger, an activist of the ARF "Dashnaktsutyun" from Yerevan, is sure that supporters of different oppositional forces should unite, casting aside their party squabbles. "The Armenian nation is on the verge of losing its statehood. Today, it is necessary to unite regardless of political views and achieve the resignation of this treacherous government, which had brought the country to collapse," he told the "Caucasian Knot".
According to the activist, he participates in all oppositional rallies. "I'll stay in the square until we throw off Pashinyan and his team," he has stressed.
This article was originally published on the Russian page of 24/7 Internet agency 'Caucasian Knot' on March 3, 2021 at 11:25 pm MSK. To access the full text of the article, click here.
Author: Tigran Petrosyan Source: CK correspondent