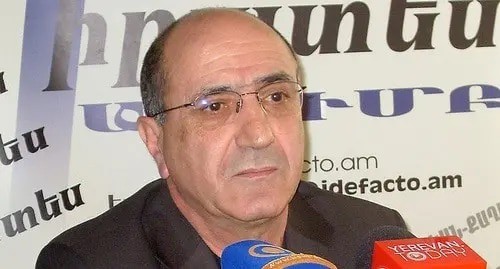 21 December 2021, 18:05
In Armenia, leader of opposition party detained on charge of false denunciation
Garnik Isangulyan, the leader of the "National Security Party" has been detained, and he is charged under Paragraph 1 of Part 2 of Article 333 of the Armenian Criminal Code (false denunciation), which provides for up to five years of imprisonment, the press service for the Investigative Committee of Armenia reports today.
When explaining the detention of the oppositionist, the Investigative Committee of Armenia reported that Garnik Isangulyan publicly and unreasonably accused an Armenian diplomat of a crime.
According to the investigators' version, at a press conference held on September 20, Garnik Isangulyan "reported a failed crime and thus provided false information," says a message on the official website of the Investigative Committee as translated from the Armenian language by the "Caucasian Knot" correspondent.
In particular, Garnik Isangulyan stated that the Armenian ambassador to Ukraine was recruited by the Turkish and Azerbaijani special services. The leader of the opposition party also added he "had no doubts" that since 2008, the Armenian ambassador to Ukraine cooperated with the above special services and representatives of Turkey and Azerbaijan.
"Thus, Garnik Isangulyan unreasonably accused the Armenian diplomat of committing an especially grave crime," the Investigative Committee of Armenia reported and added that it was decided to arrest Garnik Isangulyan.
This article was originally published on the Russian page of 24/7 Internet agency 'Caucasian Knot' on December 21, 2021 at 01:38 pm MSK. To access the full text of the article, click here.
Author: Tigran Petrosyan Source: CK correspondent