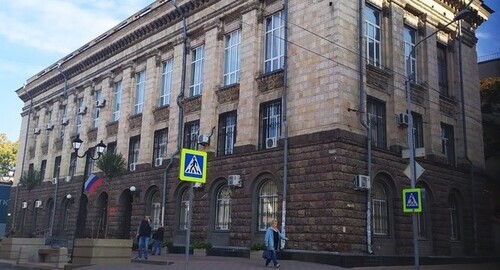 02 May 2022, 11:55
Resident of Rostov-on-Don arrested after pacifist picket
A court in Rostov-on-Don has arrested Svetlana Karpenko for 15 days after she held a picket with a pacifist poster.
The "Caucasian Knot" has reported that Ms Karpenko went out to picket on April 30 and was detained. She was accused of disobeying the police and discrediting Russian militaries.
"According to the police, her 'disobedience' was expressed in her refusal to show her passport and leave the picket venue ... However, the case files contain a video in which she voluntarily follows policemen and takes documents out of her bag," the "OVD-Info"* has reported in its Telegram channel lawyer citing Pavel Solodnikov, Svetlana's advocate.
The "OVD-Info"* also claims to have a video at its disposal showing that Svetlana Karpenko is calmly getting into a car. However, as human rights defenders reported, the police report states that she was hitting her head against the floor of the police car.
This article was originally published on the Russian page of 24/7 Internet agency 'Caucasian Knot' on May 1, 2022 at 08:27 pm MSK. To access the full text of the article, click here.
Source: Caucasian Knot