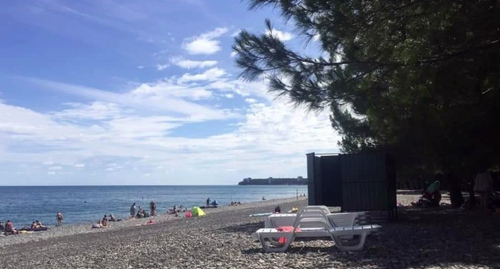 22 July 2022, 17:13
Abkhaz parliament requests check at CC of agreement on "Pitsunda" dacha
The Parliament of Abkhazia has asked the Constitutional Court (CC) to check the agreement on the transfer of the state dacha in the city of Pitsunda to Russia for compliance with the law. Some Abkhaz politicians point to inadmissibility of the alienation of people's property; while others have stressed that the agreement doesn't provide for any transfer of Abkhaz land to Russia.
The "Caucasian Knot" has reported that on July 21, the meeting of Aslan Bzhaniya, the President of Abkhazia, with villagers of Machara in the Gulripsh District ended ahead of schedule due to a conflict that broke out of activists with the president. The reason for the conflict was in an activist's question about the agreement signed at the beginning of the year on the transfer of the "Pitsunda" state dacha to Russia.
Russia is leasing the above state dacha under the 1995 agreement signed by Abkhaz authorities with the Russia's main security department. In January 2022, a new agreement was signed, but the Abkhaz Parliament has not approved it yet, the "Kommersant" has informed today.
The parliament of Abkhazia has decided to apply to the CC with a request to check whether the above Russian-Abkhaz agreement on the transfer of the "Pitsunda" state dacha into Russia's ownership complies with the Constitution.
Under the agreement, Russia will receive free of charge the "Pitsunda" dacha, a land plot of 180 hectares and the adjacent sea area. The oppositional "Forum of Abkhaz People's Unity" Party has stated that this is a significant area, which is a national property, and according to the laws of Abkhazia, it cannot be alienated.
This article was originally published on the Russian page of 24/7 Internet agency 'Caucasian Knot' on July 22, 2022 at 08:50 am MSK. To access the full text of the article, click here.
Author: The Caucasian Knot